The app aims to unite employees who couldn't attend the ViaSat3 launch in Florida, enabling them to celebrate this momentous event together. As many of our employees played a vital role in the execution of the satellite, the app will provide them with an opportunity to capture memories of the satellite by taking pictures with their family or in different environments, and share their ViaSat3 story. Moreover, the launch of all three VS3 satellites will enable us to deliver dynamic bandwidth internet to the entire plane, making ViaSat3 virtually omnipresent.
Captures taken with the app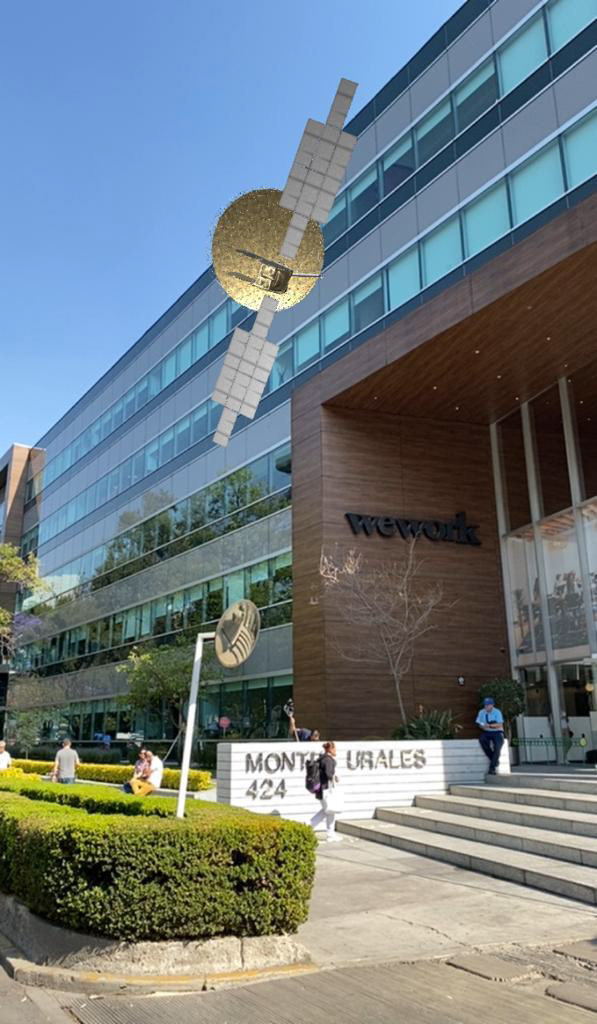 The app enables users to engage with VS3 through augmented reality. By scanning a QR code, users can easily access the app on a webpage. The first mode of interaction involves a scaled-down version of VS3 displayed on a visual marker. Users can manipulate the model's position, rotation, and scale while also accessing information about VS3. The second mode allows users to view an actual-sized VS3 model and take photos with it to share on social media using the #VS3 hashtag. The third mode involves pinpointing the relative position of VS3 in the sky. To learn more about VS3, users can submit their email and business interest through a "to know more" button.
When pitching an experience, it is essential to include compelling visuals that effectively convey what the final product will look like. Creating a pitch deck that includes mock-ups of the experience can be a persuasive tool in convincing stakeholders of its potential. Leveraging my knowledge from a Unity XR development class, I was able to export a mock-up of the placement function onto my device. This allowed stakeholders to experience the movement and functionality of the experience firsthand and better understand its potential impact.
Working with our partners at Neutral Digital has been an incredible experience. Despite the relatively short time frame they were given, they managed to deliver amazing results. Our decision to collaborate with them was made after witnessing the impressive outcome of their previous project, the ViaSat Capacity Unleashed app. Once we pitched our idea, we left it to them to make it a reality. Throughout the process, we encountered some challenges and had to adjust our expectations. For instance, some of the functionalities did not work as expected in WebAR, particularly when scaling the satellite 1:1. We also encountered tracking issues, where the scale of the satellite was affected by the surface it was placed on. Nevertheless, Neutral Digital was able to find solutions to these problems by being adaptable and dynamic in their decision-making process. Their ability to problem-solve was truly remarkable.